News
18.07.2016
New location for new ideas: EML has moved to the "Mathematikon" Heidelberg
As of now, we are located in the "Mathematikon", Berliner Str. 45. 69120 Heidelberg. The Mathematikon was conceived and realized by our founder Klaus Tschira (1940-2015) as a hub for science and technology. Our direct neighbors are "Heidelberg Mobil International", an EML spin-off that provides mobile location-based services.
06.06.2016
Siegfried "Jimmy" Kunzmann as speaker at the TAUS Industry Leaders Forum in Dublin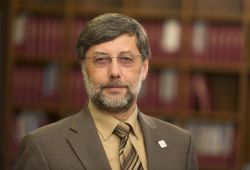 Dr. Siegfried "Jimmy" Kunzmann, R & D manager of the EML European Media Laboratory, is a speaker at the TAUS Industry Leaders Forum 2016. Representatives from many renowned IT companies are participating at the forum that has started this morning in Dublin / Ireland. Jimmy Kunzmann was invited to join the session "from machine translation to machine interpretation", contributing his long-time experience in automatic speech recognition to the forum. See more on the event website.

20.01.2016
Find the nuggets in real time: "Mediatranslator" for financial markets
In a cooperation, EML European Media Laboratory (Germany) and Lexifone (Israel) will develop the first real-time video translation system for the financial market. The two years speech technology project "Mediatranslator" has received EUREKA status and is supported by the German and Israeli Ministries of Economy. More information


23.12.2015
Season´s Greetings

Dear customers, business partners, colleagues, and friends,
In the languages of their native countries, all EML staff send you their season´s greetings.
Sincerely,
Prof. Andreas Reuter (Scientific & Managing Director)
Dr. Siegfried Kunzmann (Manager, Research & Development)


12.11.2015
Joint project by EML and Lexifone (Israel) has been awarded "Eureka Status"

The joint project "Mediatranslator" by EML and Lexifone Communication Systems (Haifa /Israel) has been accepted by the EUREKA/COST bureau of the German Federal Ministry of Education and Research (BMBF) and been warded the "EUREKA status". Both companies will develop a high-quality, domain-adapted and real-time media data translator.
29.10.2015
Andreas Reuter appointed senior professor at Heidelberg University
In October, EML scientific and managing director Prof. Andreas Reuter has been appointed senior professor of Heidelberg University. He took over the task to extend their IT infrastructure in cooperation with other research institutions in the region . The focus of this task will be requirement specifications which emerge from the so called data-driven sciences. For this purpose, he will work closely with all involved organizations. Until his retirement he held the endowed chair "Distributed Systems" (supported by Klaus Tschira Foundation) at the University of Heidelberg.
More information
26.05.2015

Speech technology helps to discover treasures of knowledge

The outcomes of the "transLectures" project: the video platform "videolectures.net" shows video lectures with automatic subtitles in five European languages – the project partner EML European Media Laboratory, Heidelberg/Germany, and the Institut Jozef Stefan, Ljubljana/Slovenia, will continue to make subtitles available in even more languages.
More information

16.10.2014

Speech recognition in daily life - how to save time with EML Voicemail2Text
Everybody is speaking about speech recognition. But what are exactly the advantages of automatic transcripton and how can it be used?
The EML Voicemail App allows the user to read all voicemails from home or the office as text on the smartphone. Thanks to speech recognition and automatic transcription, the messages can be read easily as text. You have everything at a glance, without the need to listen to calls – a convenient service that saves time.
The new Update 1.2 also allows now to directly answer to the incoming messages by simply dictating the answer into the smartphone and sending the transcribed text via E-Mail to the partner.
How this works, shows our latest application video. Watch it now on Youtube!

26. - 31. 05. 2014

EML at LREC in Reykjavik

EML is bronze sponsor of the 9th edition of the Language Resources and Evaluation Conference (LREC) 2014 in Reykjavik. More information.


17.03.2014

Wanted: Speech technology specialists

For our research and development projects we hire at the earliest possible date experienced technologists for speech recognition systems. More Information


13.02.2014

Reading is faster than listening

For the first time: EML European Media Laboratory GmbH at the Mobile World Congress in Barcelona – new Voicemail App allows reading voicemails as text on the smartphone – service in multiple languages. Press release


10.02.2014

EML Voice - Speech Technology today

The new issue of the brochure "EML Voice - Speech technology today" is in print for the upcoming events like CCW in Berlin and MWC in Barcelona. There you can find information on EML´s new products and services. Download the online version


04.02.2014

EML@CCW - Speech Technology made in Germany

The CCW, the leading event of Call Center Business in Europe, will take place in Berlin from February 17-20, 2014. As in the years before, EML European Media Laboratory will participate with its own booth (Hall 4, H 13).
Press release, February 4, 2014.

Download your voucher for free admission.